RigiTech partners with Biogroup, France's largest laboratory group, to deploy an inter-laboratory drone delivery network across the country.
For the medical biology sector, shortening the time to deliver results is a major challenge, especially in emergency situations where every minute counts. The speed with which biological samples (blood, urine, saliva, etc.) are transported from the place where the sample is taken to the place where it is analysed is crucial for proper treatment. For the first time in France, Biogroup aims to create a regular air route for the transport of these samples by drone in partnership with the Swiss start-up RigiTech. This innovative solution will reduce transport time and allow results to be delivered much more quickly – especially in the most remote areas where diagnostics services are difficult to access.
Drones are the future of transport in medical biology, according to Biogroup
On the 21st of October 2021, Biogroup – the leading medical biology group in France – carried out the first test flights of RigiTech's solution for transporting biological samples by drone.
These tests are part of the deployment phase of a first secure air route between two designated Biogroup – Oriade-Noviale laboratory sites in the Nord Isère department. The final objective is to create a network linking all peripheral laboratories to their main central laboratory using a network of AirBridges, which are fully-automated aerial drone delivery routes.
Today, biological samples are transported by car. Within Biogroup, couriers provide scheduled connections between the peripheral sites and the technical sites 3 to 4 times a day, and on request for urgent samples. According to Biogroup, the use of drones for transporting samples has several major advantages:
A real saving in time

for transporting samples, and therefore a

faster delivery of results to the patient


 This reduction in travel time also

strengthens the proximity and collaboration between the different Biogroup sites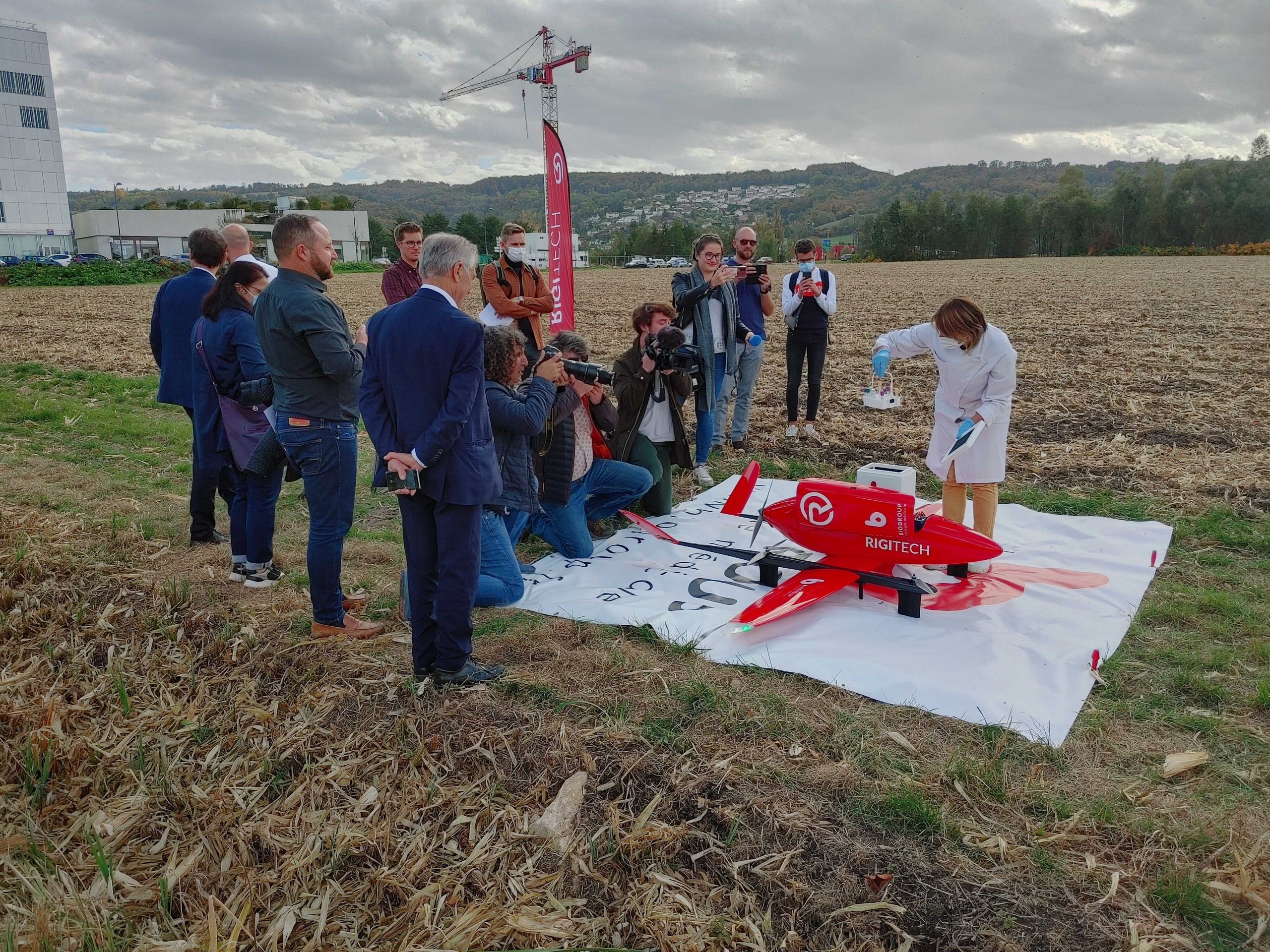 "RigiTech proved to be the ideal partner for this project as it has solid regulatory experience in Europe and has already developed similar solutions for the transport of biological samples. The reliability and durability of its solutions, the on-board safety systems and its technology perfectly adapted to the logistics of medical laboratories have convinced us and we are proud to present this partnership today."

 

Bernard Berlioz
Quality Director of Biogroup
The possibility of making flights at any time of the day or night, which is essential for dealing with vital emergency situations

A lower environmental impact:

the drones used are 100% electric.
Through this 6-month test phase our objective is to prove the reliability of this new method of transporting biological samples and to demonstrate its value for patient care. Our ambition is to deploy a complete network to connect all our central laboratories to their peripheral sites, in order to strengthen our geographical coverage and our proximity to patients," comments Dr Bernard Berlioz, Quality Director of Biogroup – Oriade-Noviale.
A new partnership in France between a private medical biology group and a manufacturer of transport drones
To deploy this solution, Biogroup relied on the know-how and technology of the Swiss start-up RigiTech. RigiTech offers a complete solution: they develop in-house the drone 
hardware but also its software which enables enhanced route planning, and flight control. They also manage the regulatory process of obtaining authorisations from airspace stakeholders.
The drone used is the Eiger, VTOL drone – a hybrid between a helicopter and an airplane – capable of landing and taking off vertically from reduced spaces such as laboratory rooftops and capable of flying distances up to 100kms in 60 minutes thanks to its 2.7m wingspan while carrying up to 2.5kg of biological samples on each flight.
Dr Bernard Berlioz concludes: "RigiTech proved to be the ideal partner for this project as it has solid regulatory experience in Europe and has already developed similar solutions for the transport of biological samples. The reliability and durability of its solutions, the on-board safety systems and its technology perfectly adapted to the logistics of medical laboratories have convinced us and we are proud to present this partnership today."