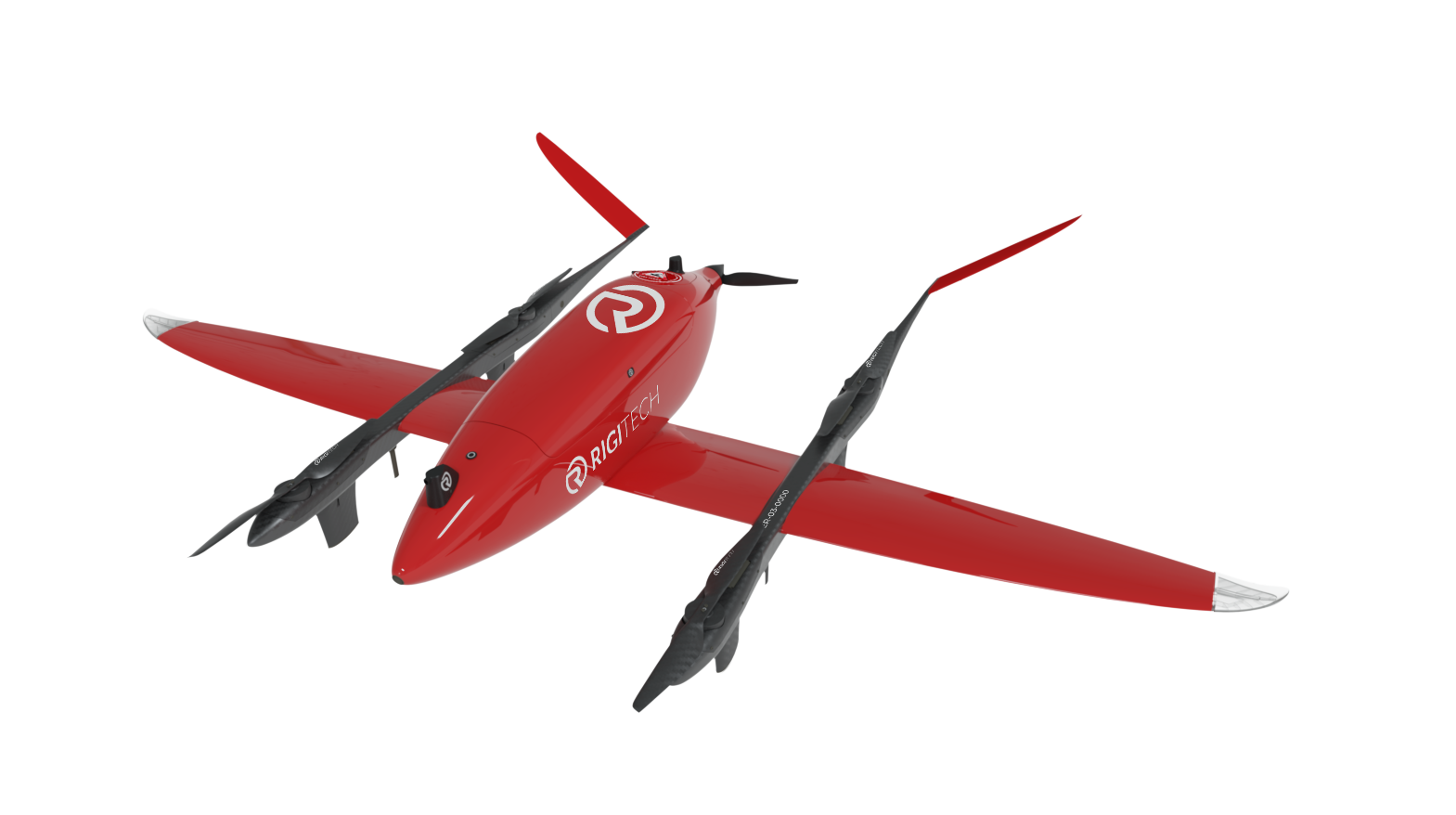 Meet our flagship, long-range delivery drone. Designed for logistics, the Eiger is perfect for daytime or nighttime operations and can power through winds of up to 15 m/s (54 km/h).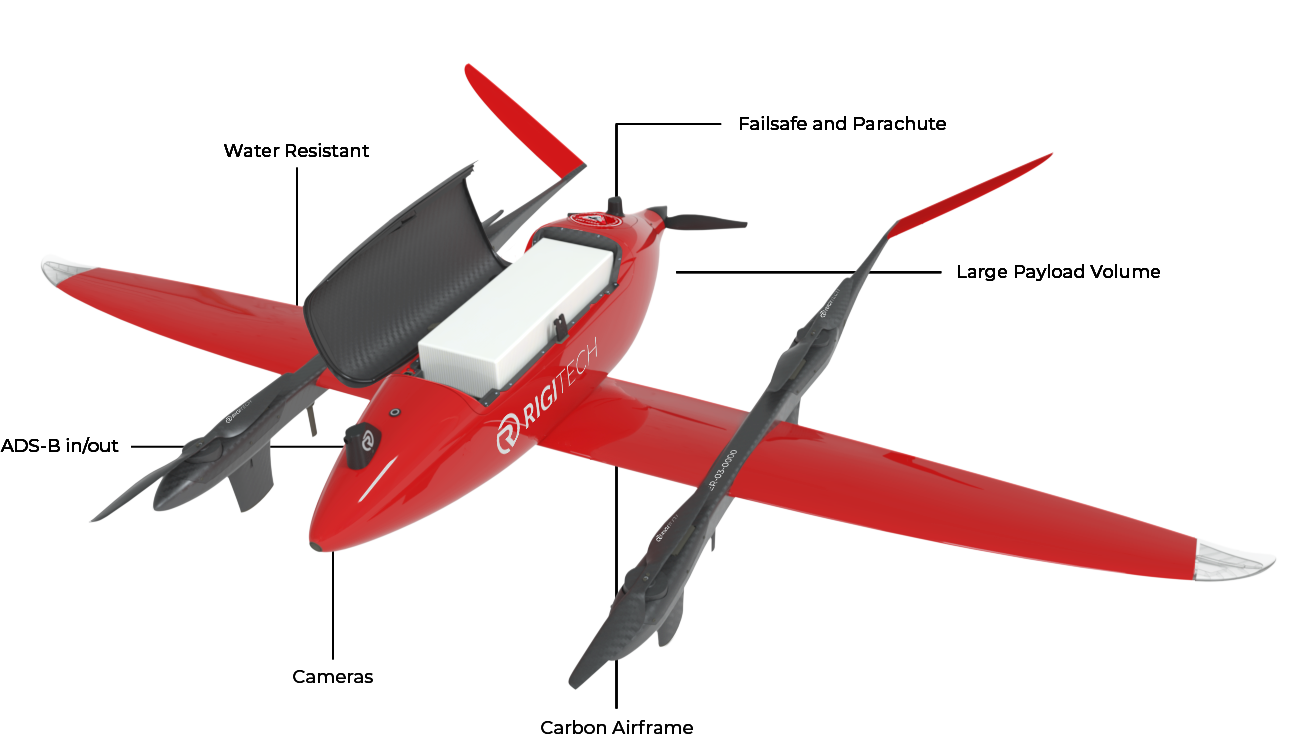 Designed for BVLOS Operations
Precision Landing
The Eiger offers a unique vision-based Precision Landing package, delivering exceptional target landing capabilities for safe and reliable BVLOS operations. Powered by advanced sensors and cutting-edge positioning technology, the Eiger excels in navigating and descending to predetermined landing spots with unparalleled accuracy. This Eiger feature allows safe landing in hazardous areas as it helps mitigate the risks of collisions and damage. Leveraging its integrated smart sensor fusion, the Eiger's onboard computer seamlessly integrates all available measurements (vision, GNSS, IMUs) making it a reliable and robust solution. A comprehensive approach, Precision Landing optimises mission outcomes, reduces operational risks, and enhances overall safety, making the Eiger the ideal choice for compliance with current regulations.
Multi-band Traffic Awareness
The Eiger ensures seamless integration into airspace through its Detect and Avoid (DAA) system, equipped with high-quality components that facilitate automatic cooperative traffic conflict avoidance. Our advanced long-range drone platform incorporates transponders and antennas, enabling Advanced Surveillance and Broadcast Systems (ADS-B IN) receivers, Flight Alarm and Traffic Awareness Systems (FLARM), and Remote ID (RID) devices to gather data across multiple bands. Efficient integration of data on RigiCloud enhances autonomous BVLOS missions, providing a streamlined and reliable operational experience.
Smart Navigation
Designed for BVLOS operations, the Eiger is remotely and autonomously piloted by RigiCloud, our proprietary cloud-based software. The Eiger executes your planned and scheduled routes and delivery networks, remotely from a centralised location, thanks to integrated data sets and powerful tools, specifically designed for aerial logistics like live traffic, live telemetry, and population awareness. Automatically generate optimised routes between desired takeoff and landing points, and create geocage corridors for maximum safety with a single click. The Eiger and its integrated Failsafe system will execute predetermined actions if boundaries are breached, such as reaching rally points or triggering the emergency parachute.
Nighttime Operations
Leverage the Eiger autonomous capability to execute long-distance, night time deliveries. Benefit from reduced air traffic and obstacles by incorporating Eiger drones in your aerial logistics fleet, increasing overall operational efficiency. Depending on the location, nighttime operations may offer cooler temperatures and easy weather conditions, positively impacting the drone's performance, battery life, and payload capacity, enhancing the efficiency of the Eiger's delivery capabilities. The drone's traffic awareness technology remains reliable even during nighttime hours, ensuring safe navigation and obstacle detection, while our Precision Landing package is designed to function robustly in low-light conditions, enabling accurate and reliable target landings.
Live Video Streaming
Our flagship drone platform offers live video streaming, specifically designed to support BVLOS drone delivery and long-distance missions with increased operational safety. Adding an extra layer of operational safety, this feature ensures the autonomous execution of delivery routes with enhanced monitoring capabilities. Equipped with two cameras, the Eiger's live video streaming allows remote operators to monitor the Eiger in real time, providing crucial situational awareness. The front-facing camera offers an easy view of the fast fixed-wing flight, capturing clear visuals of the surroundings and ensures operators have an unobstructed view of the flight path ahead. The Eiger's downward-facing camera enables monitoring for takeoff and landing, providing critical visibility for smooth operations.
Precision Payload Dropping
Unlock expanded drone delivery capabilities with the Eiger with this optional addon that eliminates the need for landing and takeoff. A cutting-edge mechanism, it incorporates a secondary payload pod, beneath the drone's main body, while preserving the functionality of the Eiger's main payload bay. With this innovative feature, the Eiger maintains the flexibility to land and reload with a new payload if required, optimising delivery efficiency and reducing energy consumption. Leverage the Eiger's impressive new technology by combining its dropping capability with its precision targeting by including a Precision Pad at the desired dropping area.