Svendborg, Denmark. June 2, 2022 – Flying for the first time from Odense University Hospital (OUH) in Svendborg, RigiTech's Eiger drone transported medical payloads in 35 minutes to the island of Ærø, achieving a significant reduction in transport time when compared to transport by car and ferry. The objective: to ensure proper treatment for the patients, much faster.
Today, if you live on one of Denmark's smaller islands and have a blood sample taken, the sample must be transported by ferry and car for analysis at the hospital's laboratory on the mainland. In the future, the distance will be shorter thanks to drone delivery technology being developed by RigiTech, together with their operating partner Holo and the entire Healthdrone project, paving the way for the blood samples to be sent by drone directly and immediately to the laboratory.
"The COVID-19 crisis has shown us the importance of fast and broad medical diagnostics," says Adam Klaptocz, Co-founder and CEO of RigiTech. "Linking rural clinics to the greater healthcare network is a prime example of how drone logistics systems will revolutionise patient care."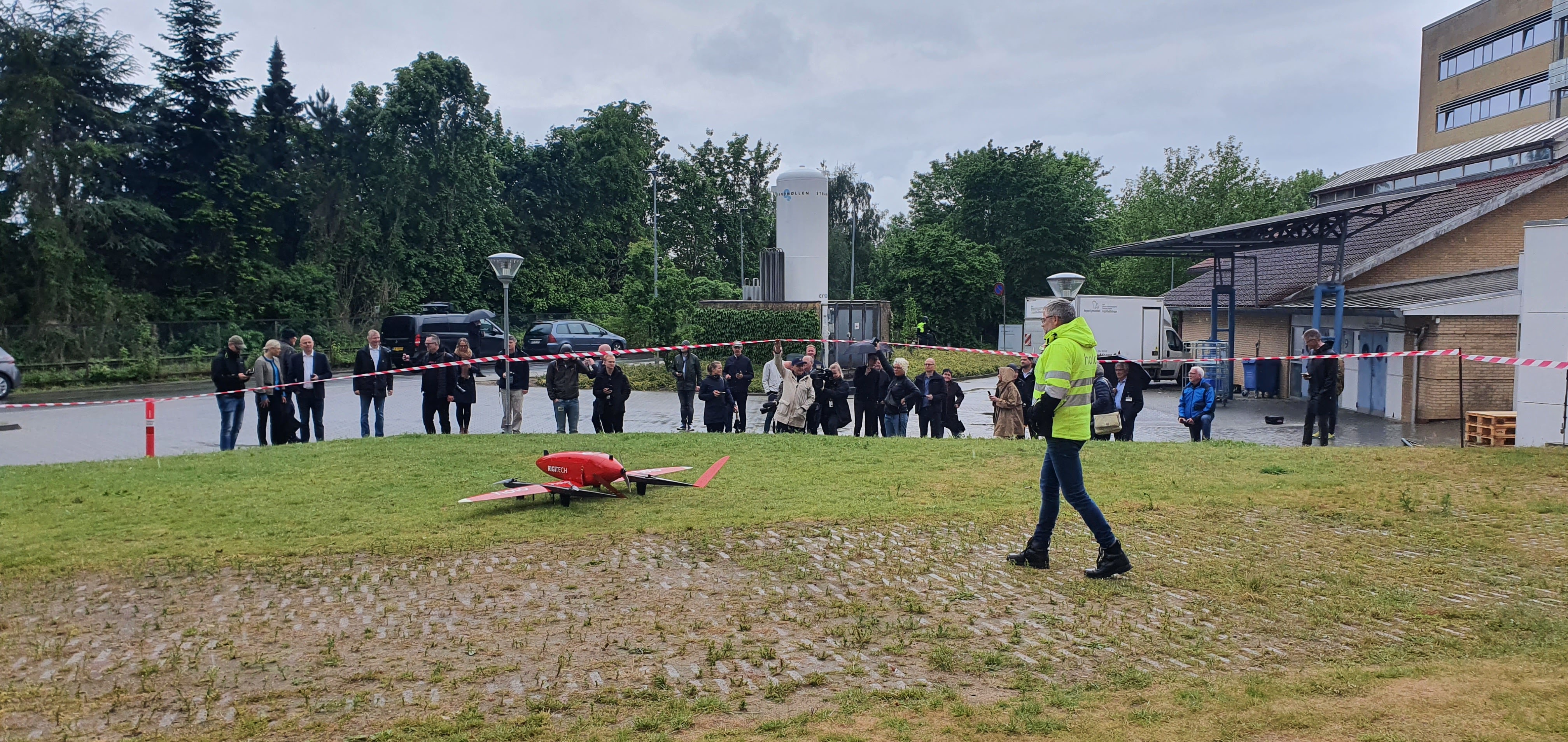 An initiative led by the Healthdrone project
The partnership and project behind the health drones successfully executed a first BVLOS flight on May 30th, with the Danish Minister of Transport, Trine Bramsen, in attendance, standing by in Svendborg to send the first Danish health drone off via a radio connection. RigiTech's Eiger drone completed the flight in 35 minutes, covering over 50 kilometres, at an altitude of 80 metres. In the few days since then the Eiger has logged over 500 kilometres on the route through daily flights.
Long term, the plan aims for medicines and equipment to be transported between hospitals, laboratories, medical centres, nursing homes and home care. In line with the Danish government's new healthcare reform, the system can be extended to smaller islands or areas that are far from a hospital, thus bringing the health service out to the patient.
"There is no doubt that with the entry of health drones into the healthcare system, we are entering a new era", says Kjeld Jensen, Project Manager from the University of Southern Denmark (SDU).
"It is exceptional in a European context that we fly drones without shutting down the airspace. Together with Naviair, Unifly and the Danish Transport Authority, we at SDU have developed a method for tracking helicopters and aircraft so that we can manoeuvre around them. The air traffic control at Naviair can see on their screens when a drone flight is in progress and will act if e.g. a rescue helicopter needs the airspace. We have paved the way for this to be possible", says Kjeld Jensen.